Digital Days 2022: Open Lab
---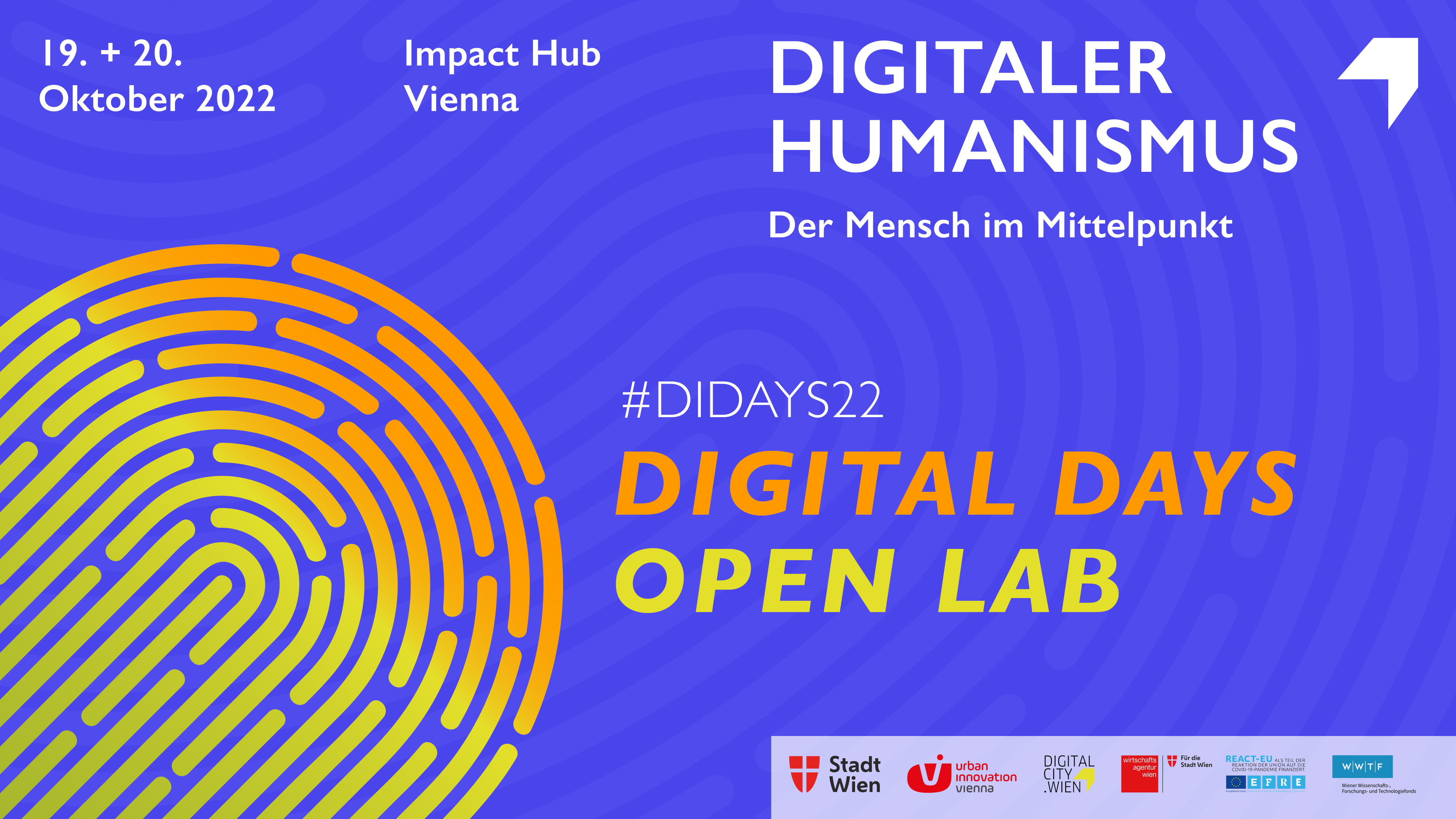 Digitaler Humanismus - Der Mensch im Mittelpunkt
19. und 20. Oktober
Die Digital Days 2022 finden am 19. und 20. Oktober 2022 im Impact Hub Vienna statt. Expert*innen aus Stadt, Wirtschaft und Wissenschaft diskutieren zum Thema Wiener Digitaler Humanismus: Der Mensch im Mittelpunkt der Digitalisierung unserer Stadt.
Wie können wir innovative Technologien entwickeln, die die Sicherheit und Privatsphäre der Bürger*innen erhalten? Wie sehen Aus- und Weiterbildungsangebote sowie Arbeitsplätze in einer digitalen Zukunft aus? Welche Geschäftsmodelle vereinen Soziales, Nachhaltigkeit und Wirtschaftlichkeit? Was braucht ein innovatives Gesundheitssystem im digitalen Zeitalter? Wir diskutieren, wie Bürger*innen an der digitalen Entwicklung teilhaben und sie mitgestalten können und welche Rahmenbedingungen für eine inklusive und humane Digitalisierung unserer Stadt notwendig sind.
Die Digital Days 2022 sind ein offenes Labor. Entwickeln Sie mit uns eine digitale, nachhaltige und soziale Zukunft der Stadt. Der Eintritt ist frei, mit limitierter Ticketanzahl für die Teilnahme vor Ort. Teile der Veranstaltung werden live gestreamt.
Jetzt voranmelden unter: didays.digitalcity.wien
Das gesamte Programm finden Sie hier: https://community.digitalcity.wien/agenda
Die Digital Days sind eine gemeinsame Veranstaltung der Stadt Wien, DigitalCity.Wien, Urban Innovation Vienna, Wirtschaftsagentur Wien und des Wiener Wissenschafts-, Forschungs- und Technologiefonds (WWTF).
Der WWTF bei den Digital Days:
Digital Humanism & Democracy: why we should act now.
20.10.2022, 09:00-11:00

Impact Hub Vienna + online

How can digitalisation help strengthen our democracies? We are aware that our democracies urgently need strengthening: through participation, information, and transparency. Digital tools, platforms and new media formats have tremendous potential to enable effective participation and to contribute to the stabilisation and expansion of our democracies. However, we can also see the potential threats to democracy. For example, features of online platforms are alarmingly well suited to undermine trust, promote authoritarianism and extremism, and endanger the principles of democratic voting and decision making.
Democratic rights were secured only through arduous struggle. Now, we raise the important question: how can our analogue democratic rights be translated into new, digital practices for citizens and the society, so we can all develop a strong, democratic culture together? This is a question of utmost importance, as successful digitalisation requires a strong democratic basis. Otherwise, authoritarian rulers will tell us how we should and are allowed to live in the digital age, determine power structures and define the interactions between humans and machines.
In our session, together with scientists, politicians, and representatives of civil society, we will explore concrete possibilities of action for each and every one of us. The starting point of our discussion will be values and modes of action, and our discussion will start here in Vienna because, in the end, 'all politics is local'.
Keynote: James Larus, ETH Lausanne
Panelists:
Mark Coeckelbergh, University of Vienna
Philipp Staab, HU Berlin
Astrid Mager, Institute of Technology Assessment of the Austrian Academy of Sciences
Romy Grasgruber-Kerl, mitgestalten Partizipationsbüro
Stefan Gara, NEOS
Jörg Neumayer, SPÖ
Moderation: Michael Stampfer, WWTF
Gewinnerprojekte Roadmaps Digitaler Humanismus

20.10.2022, 16:00-17:00

Impact Hub Vienna

Fördercall "Roadmaps Digitaler Humanismus"

Moderation: Donia Lasinger, Georg Sedlbauer, Petra Zwirn
Sprecher*innen:
Michael Stampfer
Gerhard Hirczi
In der Session werden ausgewählte Siegerprojekte des Förderwettbewerbes "Digitaler Humanismus" präsentiert.
Der WWTF als privat-gemeinnütziger Förderer für Wien sowie die Wirtschaftsagentur Wien als Fonds der Stadt Wien fördern den Digitalen Humanismus. In einem neuen – erstmalig gemeinsamen – Förderwettbewerb sind Unternehmen und Forschungseinrichtungen aufgefordert worden, ihre Ideen zum Digitalen Humanismus zu entwickeln. Ziel der Förderung ist es, Unternehmen oder Forschungsinstitutionen bei der individuellen Erarbeitung einer Strategie zur Übersetzung des Digitalen Humanismus in die eigene Organisation zu unterstützen.
Workshop - Digitaler Humanismus in der Praxis: wie sind komplexe Systeme vereinbar mit demokratischen Prozessen?



20.10.2022, 14:00-15:30

Impact Hub Vienna
Moderation: Hannes Werthner, Technische Universität Wien
Sprecher*innen:
Sebastian Tschiatschek, Universität Wien
Julia Neidhardt, TU Wien, CD-Lab Leiterin
Hannah Metzler, Complexity Science Hub
Sebastian Strauss, ÖAW
Dominik Piétron, HU Berlin
Digitale black boxes, "Digital divide" und Digitale Expertokratien: wie können wir dafür sorgen, dass die Kluft zwischen technologischer und demokratischer Entwicklung nicht unüberwindbar wird? In großen, disziplinenübergreifenden "Digital Humanism" Forschungsprojekten sollen Alternativen entwickelt werden. Gemeinsam mit Sebastian Tschiatschek (Universität Wien, WWTF-gefördert), Julia Neidhardt (TU Wien, CD-Lab-Leiterin), Hannah Metzler (Complexity Science Hub, WWTF-gefördert), Sebastian Strauss (ÖAW, Discussant) und Dominik Piétron (HU Berlin, Discussant) sprechen wir darüber, wie ihre Forschungsarbeiten dazu beitragen können, das digitale Zeitalter menschlicher zu gestalten.
Wie gehen wir damit um, dass die Funktionsweisen und Folgen digitaler Technologien für weite Teile der Bevölkerung an eine Verständlichkeitsgrenze kommen? Was bedeutet es für liberale, demokratische Gesellschaften, dass die Lücke zwischen digital natives und den anderen immer größer wird? Wie sieht gelungene Teilhabe aus und welche Aufgaben haben Politik und Expert*innen im digitalen Zeitalter? Entlang dieser Fragestellungen bewegt sich unsere Diskussion zur Vereinbarkeit komplexer digitaler Systeme mit demokratischen Prozessen.
2020 förderte der WWTF in der ersten Förderausschreibung zum "Digitalen Humanismus" neun Projekte von Wiener Universitäten und Forschungseinrichtungen mit 3,6 Millionen EUR in den Bereichen "Komplexe Informationen und demokratische Entscheidungsprozesse", "Digitalisierung und Arbeit" und "Digitales Wohlbefinden" und "Social Media und Beteiligung": https://www.wwtf.at/funding/programmes/ict/#ICT20. Weitere Ausschreibungen des WWTF sind im Laufen bzw. in Vorbereitung. Das CD-Lab von Julia Neidhardt beschäftigt sich mit: https://www.cdg.ac.at/forschungseinheiten/labor/weiterentwicklung-des-state-of-the-art-von-recommender-systemen-in-mehreren-domaenen